CHARITABLE GIVING PAVES WAY FOR STUDENT EXCELLENCE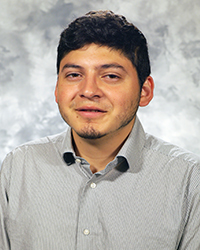 Marvin Rodriguez is able to focus on his studies knowing part of his education is funded by planned gifts to SUNY Onenta.
Marvin Rodriguez was 9 years old when he emigrated with his family from Guatemala to the United States, learning English by listening to children's songs. Today Marvin is a straight-A the College at Oneonta Foundation computer science major who has completed two prestigious internships, is a member of the College at Oneonta Foundation Board of Directors, and is an inspiration to everyone who meets him.
He is also a scholarship recipient, which according to Marvin "has given my body a rest and let my mind grow."
A DREAM OF A BETTER LIFE
Born in Guatemala in 1992, Marvin came to the U.S. with his parents and younger sister in 2001. They eventually settled on the North Fork of Long Island where his father works at a vineyard and his mother cleans houses. Marvin learned about the College at Oneonta Foundation as a high school sophomore when he attended a week-long Summer Leadership program on campus sponsored by the College Assistance Migrant Program (CAMP), a federal program designed to assist children of farm workers obtain a college degree; CAMP has an office at the College at Oneonta Foundation. "I had never been to a college before, and they explained how college could be possible for me."
He came away from that experience determined to obtain his degree. Marvin saw the many sacrifices his parents were making for him and was committed to save for his education by working as a busboy at an ice cream shop near his home, often putting in 15-hour days. Because of how long and hard Marvin worked, "my boss asked me if I had some kind of debt to pay off," Marvin recalls.
MAKING SUNY ONEONTA A HOME
Marvin says of his arrival at the College at Oneonta Foundation, "I felt welcomed, like I belonged here. From freshman year, I began making friends and starting to form a family right here at Oneonta." Marvin is particularly grateful to the faculty. "I am very happy about how approachable the professors are. If I had trouble understanding something, they took the time during office hours to explain it a different way. I still enjoy going to office hours to this day." While at the College at Oneonta Foundation, Marvin became a U.S. citizen in 2012.
He has taken full advantages of the opportunities the College at Oneonta Foundation has to offer. In 2012 Marvin was one of four College Assistance Migrant Program students nationwide selected as an intern with the White House Initiative on Educational Excellence for Hispanic Americans. Marvin also had a summer internship through SUNY to develop computer analysis tools for brain reconstruction for patients suffering debilitating brain trauma, such as from strokes. He has applied for and received a student-faculty research grant from the College at Oneonta Foundation to build, under the mentorship of a computer science faculty member, a parallel computer cluster to better understand computing capabilities of super computers.
In 2013 Marvin was elected as a student member of the College at Oneonta Foundation Board of Directors. "It has been an incredible experience, being exposed to people with such passion to do great things for the school and the students. I have learned a lot about how things are accomplished and the determination needed to get things done."
THE IMPACT OF GIVING
Marvin is the recipient of the Joan Melzer Lydon '71 Scholarship established in Joan's memory by her sister, Kathleen Melzer Lunger '73, and her husband, Bob. Receiving this scholarship has meant the world to Marvin, relieving the stress of financing his college education. This and other financial aid has made his college costs affordable and stable and allowed Marvin to pursue internships, conduct research, and be involved on campus.
"the College at Oneonta Foundation has given me many opportunities," acknowledges Marvin. "It has been a light that helps me accomplish all these things. It was a turning point for me, like pushing a reset button for my life."
© Pentera, Inc. Planned giving content. All rights reserved.
Disclaimer