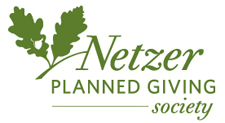 NETZER PLANNED GIVING SOCIETY
The Netzer Planned Giving Society was established to honor individuals who have named the College at Oneonta Foundation in their will or estate plan. We welcome as members of this special society, those who have made a commitment to the College at Oneonta Foundation through a bequest, charitable gift annuity, charitable trust, life insurance, retirement plan, or other form of charitable giving through estate planning.

The Netzer Planned Giving Society was named in honor and memory of our late College President, Royal Netzer, and his wife Clara. In addition to their commitment to our College, the Netzers shared a generous philanthropic spirit. Mrs. Netzer's bequest in 1993 was one of the largest in the history of the College. Our Netzer Society's oak leaf recognizes Mrs. Netzer's dedication to improving our College's grounds and the hundreds of trees planted, many of them oaks, under her supervision. They continue to beautify our campus even today.

For those who are considering making a gift in their will, trust, or other estate-planning gift, our legal name is The State University the College at Oneonta Foundation Corporation. Our Federal Tax ID is 22-2403203. We are a 501(c)3 nonprofit organization established to raise and receive charitable gifts for our College. And if you have already named the College at Oneonta Foundation in your will or estate plan, please let us know so that we have the opportunity to thank you.

We are proud to acknowledge the current members of the Netzer Planned Giving Society:
Don and Gay Ackerman
Paul '81 and Ann Hagen '82 Adamo
James Ajello '75
Susan C. Alexander '69
Robert Allen '82
Father John A. Andrews '64
Victoria Andritz '65 and Robert Rightmire
Belle C. Ang
Janice G. Ashley '62
Freda Bailey '42
Steven '72 and Jane Minto '72 Bailey
Joseph Carl Baldwin
Beverley E. Bardwell '53
Linda J. W. Barnes '76
Sandra Grandus '62 Barone and Paul V. Barone
Barbara Barton '59
Eva Morse Bartsch '32
Ann Billesbach '76G and John E. Carter '75G
Judith C. Bird '67
Ellen M. Blaisdell and Peter Exton
Merton A. Blanchard '39
Frances Bliven '54, '61G
Anita Trautmann Bodak '65
Charles Bogosta '80
Robert '58 and Eleanor Bolton
Kent L. Bradt '71
David '57, '59G and Lois Brenner
Esther Bartow Bresee '31
Karl L. Brooks '37
Michael D. Brophy '73
George '70 and Elizabeth Brower '68
Keith Bundy '62, '66G
John '68, '74G and Carol Burkhart '68, '73G
Jan Payne Bushey '71
Frank Bybel '85
Carolyn Cacciato '79
Jo-Ann Farrugia Carhart '75
Gerda Carmichael '51
Enid Carter '53
Andrea Casper '75
H. Mary Cervenka '69
Agnes Chamberlin '61
Jean M. Clark '55
Paul '65 and Ann Constantine
Martha L. Corry
E. Richard Covert '52
Arda Crane '40
Clifford and Marion Craven
Anne Hopkins Cross '52
Yvonne Cummings '72
Joanne Curran
David and Mary Piscatella '80 Dacquino
David and Caroline D'Antonio '67
Jay Davidson '69
Dean Allen Davis '84
Edith Gifford Day '21
Mark Delligatti '75
Joseph DiBlase '98
Ulrike DiCola '76
Rob P. Diedrich '79
Charlotte Diffendale '64
Jack B. '66G and Merrilee Dowty
Linda Dubsky '75
Ann Scorza Dudley '75 and Phil Dudley
Rose M. Edwards
Karen '84 and James Elting
Arlene Erbacher '73
Anne Roeder Fichtner '69
Douglas and Dorothy "Scott" Fielder
Frances R. Fierson '69
Eleanor Filburn '54
Myra J. Fincher '63
Francis P. Fitzpatrick '64
Edna Gadsby '29
Suzanne Gallo '79
Julia Galusha '71, '75G
William P. '81G and Pamela Galvani
Ralph '46 and Elizabeth Gennarino '45
Robert A. Getlan '80
William '65, '69G and Cynthia Jachmich '66 Goertemoeller
James '67G and Cheryl Magruder '67G Gold
David Golden '60, '71G
Barbara Tucker Goldenberg '75
Steven Goldenberg '74
Bernice Gonser '46
Victoria Graffeo '74
Dr. Victoria Graham '76G
Jane E. Grastorf
Carol M. Grzywinski '68
Janet Sutherland Guldbeck '66G
Norman '72G and Phyllis Famoso '67 Gunther
Ramijimar S. Habeeb-Ullah '83
Mildred J. Haight '22
Barbara Knapp Hamblett '71G
Betty-Jean Haner '51
April S. Harper
Jayne Regan Harris
Terry Hart '82
Todd Hart '82 and Valerie Stowell-Hart '83
Leif and Claudia Hartmark
Dorothy Hassert '29
Susan May Haswell '65
Jane Monser Hazzard '56
Marie Hegeman '92
Joseph Heissan '63
Terry and Wanda Helser
Charles Hemstreet '75
Dorothy McNamara Higgins '30
Stephen '62 and Kathleen Hofgren
Barbara A. Holzkamp '63
Carl Horner
Richard C. Howard '53
Mildred Winchell Hubiak '46
Susan M. Hughson
Thomas M. Hughson
Jay Hulbert '59
Florence Janovsky '63
Doris Clark Jeannin '28
Susan B. Jennings
William L. Johnson '46
Donald W. Jones
John S. Kalb '67
David Kane '70
Helga Karker '59G
Walter D. Karpiak '36
Debra A. '77 and Kenneth Kawaller
Jessie Felsbury Kearney '48
Marilyn Keller '61
Ken Kellerhouse '57, '60G
Vivian J. Kemp '67
Lloyd Terrance Kennedy
Frances Helme Kimer '53
Rob Klein '72
Nancy Kleniewski and Bill Davis


Peter Knightes '67 and Linda Knightes
Carmeen Yannotti Kolpack '65
John and Katherine Kotz
Nancy Krager '59
Robert '78 and Kathryn Heim '78 Kunemund
Valerie A. Kushner '82
Louise M. Ladd '70
Christy Lamagna '90
Robert Lamy
Dr. Joann La Perla-Morales '68
Walter and Margaret McDougall '45 Leackfeldt
Arthur Leahy '73
Jerome T. Liebrand '80 and Roberta L. Hines
Karen E. Linnen '60
Julia Antonfeld Linscott '31
Anita Bronwyn Llewellyn '79G
Paul and Joan Molinari '55 Lojpersberger
Hal Luftig '79 and Dr. Stewart Adelson
Peter Lund '73 and Donna Nidds Lund '73
Robert and Kathleen Melzer '73 Lunger
Linda Lee Lupian '72
Anna Marie Lusins
Margaret Maguire
Elizabeth Marko '50
Marla Wacker Mastin '63
Ann C. Mathews '66
Harry Bradshaw Matthews '74
Raymond Matusiak '71
Thomas '90 and Heather Hill '92 McArdle
Patrick McCann'75
Helen McConnell '52
Carol E. McHugh '77
Richard C. and Jeanette Stein '54 Meeker
Mitchell Merber '80 and Victoria Martin-Merber '80
Karene Anne Yanuklis Merilan '87
William Millard
Jean Miller '45
David '74 and Mary Milmore '06H
Katherine Monthie '68
Doris Wiebel Moore '65
Alice S. Moyer '30
Matthew '04 and Karen Munson
Sharon Murner '66
Clara Netzer
Sandra Neverett '72
Richard P. Nickerson '63
Charles '99 and Melissa A.'98 Nicosia
Dr. Franziska Noring '64
M. Lucille Morrow Normandin '52
Marilyn and Esmat Nouri
Bianca O'Brien '85
Margaret Colyer Osterhoudt
Wayne Padover '70 and Donna Elder
Art Palmer and Peggy Palmer '76
Myra Berneburg Pappania '66
Jean Parish
Debra '82 and Sid Parisian
Doris L. Patrick '22
Carolyn Van Vranken Patrickson '72
Dorothy Amsden Payton '37
Johna M. Peachin '84
Paul Perlman '76
Janet Perna '70 and Melanie Rose
Steve and Jeanne Perry
Ruth M. Petri '32
William and Marjorie Miller Pietraface
MaryAnn Pietromonaco '85 and Matthew Grannen
Amy K. Posner '76
Nancy '74G and Alan Powell
Leora A. Preston '31
Terrence '82 and Eleanour Snow Quinn
Marsha Paur Ras '69
Albert J. Read
Frances H. Gailey Read
Maynard G. Redfield
Richard '78 and Mary Reed '00H
Debra Reid '87G
Burton Relethford '09
Janet Richmond '65
Peggy Richter '76
Susan Riggi '72
Carl and Inge Otten Roemer '59
Franklyn H. Rollins
Roberta Packer Rolston '53
Jayne B. Rycheck '34
James B. Sanders '78
Lynn Sandstrom '60
Olga Marie Santora '35
Mike Schechter
Paul Scheele
Evan Schiele '89
Anna Schmidt Schuhart '74
Gwen Latendorf Schuster '68, '73G and Dr. Rudolph Schuster
Pamela Scofield
Marylin Ripperger Searby '51
Mildred Getman Seidel '28
Margaret C. Seifert '30
Barrie Koelbel Simpson '63
Terri L. Sinnott '89G
Ann L. Slocum '66
Steven S. Smith '80
Kenneth Soeder '79
Joanne '71 and Frederick Soued
Elin Jorgensen Stene
Jed '71 and Sally Tanzer
B. Edward Tennyson '35
Rufus J. Thayer
Beatrice Osterhout Tompkins '28
George and Margaret Tugas '44 Transom
Jean Petrie Valentine '49
Andrew K. VanBenschoten
William Vandenbosch '69
Harriet B. VanWoert
Peter '81 and Kim Viau
Lynda R. Walther '68
Youn Yi Wang
Christine R. Warnquist '71
Jan E. Waterbury '73, '76G
Estella Watkins '66
Diane Webster '72
Barbara M. Weigand
Neil Weiller
Rita Wellman
Dorothy Anderson Wemple '36
Edith Wilk
William '49 and Barbara Wilsey '53G
Philo C. Wilson
Nancy Wolters
Fabrice Jew Wong '62
James G. and Eleanor Clapper '19 Youmans
Todd Zimmer '90
Lorraine Lang Zimniewicz '69, '74G
Rose Dent Zook '74



Forty members of the Netzer Planned Giving Society prefer to remain anonymous.
© Pentera, Inc. Planned giving content. All rights reserved.
Disclaimer