ON TRACK FOR GREATNESS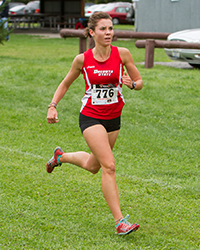 Danielle Kennedy '14
Danielle Kennedy's competitive drive, time management skills, work ethic, and confidence were on display since her arrival as a freshman. Athletically, she was a three-season athlete and captain of the cross country and track and field teams. Her leadership and nationally recognized abilities led Danielle to being named the College at Oneonta Foundation Female Athlete of the Year in 2013.
Academically, Danielle pursued a dual degree in English and mass communications with hopes of a career in network television news. Knowing that she needed real-world experience to supplement her class time, Danielle landed an internship at CNY Central, the central New York affiliate for NBC, CBS, and the CW. But as an unpaid intern, Danielle needed help to afford her experience.
Fortunately, Danielle was a recipient of the Dorothy Anderson Wemple '36 Scholarship. This support during the academic year freed up much-needed funds for Danielle to pursue the internship. A lover of the English language and a lifelong English teacher at Knox Junior High School in Johnstown, New York, Mrs. Wemple established this endowed scholarship through her will with the goal to help students like Danielle majoring in English. And in addition to helping students afford their college degree, Mrs. Wemple's scholarship enables the College at Oneonta Foundation to recruit and retain talented English majors like Danielle to our College. Because it is an endowed fund, the Wemple scholarship will continue making awards in perpetuity.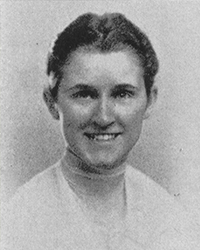 Mrs. Wemple created a lasting legacy at the College at Oneonta Foundation. Because of the estate planning she did to create this endowed scholarship, Mrs. Wemple will continue to help our students in perpetuity—even though she passed away in 2007. And the name Dorothy Anderson Wemple will forever be remembered at the College at Oneonta Foundation and by those talented English majors whom she helped achieve their dreams.
Danielle, a the College at Oneonta Foundation 2014 graduate, is now pursuing a graduate degree at the Newhouse School of Public Communications at Syracuse University. She still recalls the impact of her scholarship at the College at Oneonta Foundation.
"The Dorothy Anderson Wemple Scholarship has played a huge role in shaping my future," says Danielle. "There is no way I would have been able to afford my internship without it. In the future, I hope to help students achieve their goals as this scholarship has helped me pursue mine."
© Pentera, Inc. Planned giving content. All rights reserved.
Disclaimer