KELLERHOUSE JOURNEY LEADS TO MEANINGFUL GIFT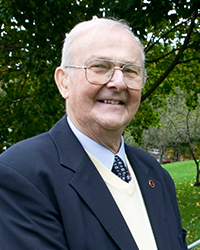 Ken Kellerhouse '57, '60G
Ken Kellerhouse '57, '60G knows what it's like to struggle for a college education. At the age of 27 with a wife, Muriel, and a young son—and after working as a water well driller and a butcher—Ken enrolled at the College at Oneonta Foundation. It completely changed his life. That's just one reason it was so important to Ken to give back to the College that gave him his degree and a 30-year teaching career.
Ken and Muriel joined the College at Oneonta faculty in 1960, with Ken in education and Muriel in theatre. Over their 30 years at the College—both retired in 1990—they taught thousands of students and alumni remember them both to this day.
Muriel passed away in 1995. To honor his late wife and to give back to the College that had given them both so much, Ken established a scholarship in the College at Oneonta Foundation for theatre majors in Muriel's name. "I wanted to do something in memory of Muriel, and I was happy to have attended the College at Oneonta Foundation as a student," Ken says. "When I attended, there was no tuition. I knew that students today could use scholarships." Later Ken established a second scholarship for nontraditional students in education—with preference to those in science, math, and technology.
"I am happy that students are receiving these scholarships and that they reach out to thank me," Ken says. "As a donor, it makes you feel good that students really appreciate the help that scholarships give them. They see it as an incentive to work hard and do well. They feel they owe it to the donors."
Ken has also included a gift to the College at Oneonta Foundation in his estate plan. "I want to build up my scholarships, and I included the Foundation in my will to make sure that the scholarships will be guaranteed to reach that level."
Ken knows the scholarship funds are well managed through his volunteer efforts on the College at Oneonta Foundation as a current board member and past president. "I know that the board has a history of outstanding management and stewardship of funds that are contributed and bequeathed to the Foundation and is committed to continuing that in the future," Ken says. In fact, the College at Oneonta Foundation has received top marks from Charity Navigator, the nation's largest online charity evaluator, for its ability to deliver on its mission and management of its financial resources.
All of us at the College at Oneonta are grateful to Ken and Muriel for all they have done for our College and our students. The two Kellerhouse scholarships will continue to assist College at Oneonta students in perpetuity.
Learn How You Can Help
For information on how you can use planned giving to create a scholarship or to support the College at Oneonta, contact Ellen M. Blaisdell at (607) 436-2781 or Ellen.Blaisdell@oneonta.edu.
© Pentera, Inc. Planned giving content. All rights reserved.
Disclaimer