ALUMNA ENJOYS STEADY PAYMENTS FROM GIFT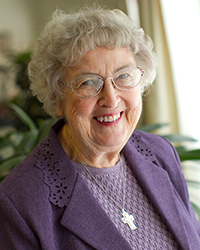 Enid Carter '53
"I enjoy getting a better interest rate than my CD as well as supporting my alma mater."
That is what Enid Carter '53 says about her charitable gift annuity with the College at Oneonta Foundation. Enid established the gift annuity when she was looking for something that would give her fixed payments for life that won't fluctuate with the changing economy.
Enid received our newsletter which included an article on charitable gift annuities, a giving option in which donors make a gift to the College at Oneonta Foundation and receive fixed payments for life. The balance remaining then supports the College at Oneonta Foundation's mission. She sent in the reply card requesting more information, and she is very thankful she did. "I appreciate the stable payments, especially knowing they are guaranteed and won't change," Enid says. "It was extremely easy to set up. The College provided me with the information I needed, and it was easy to understand."
Enid has long supported the College at Oneonta Foundation as an annual donor, so establishing a gift annuity was a logical next step. She feels gratitude to the College for her 32-year teaching career in Earlville, Coxsackie, Schenectady/Mohonasen, and Oneonta. As a result of her gift, Enid is a member of the Netzer Planned Giving Society, which honors individuals who have included the College at Oneonta Foundation in their estate plans.
© Pentera, Inc. Planned giving content. All rights reserved.
Disclaimer